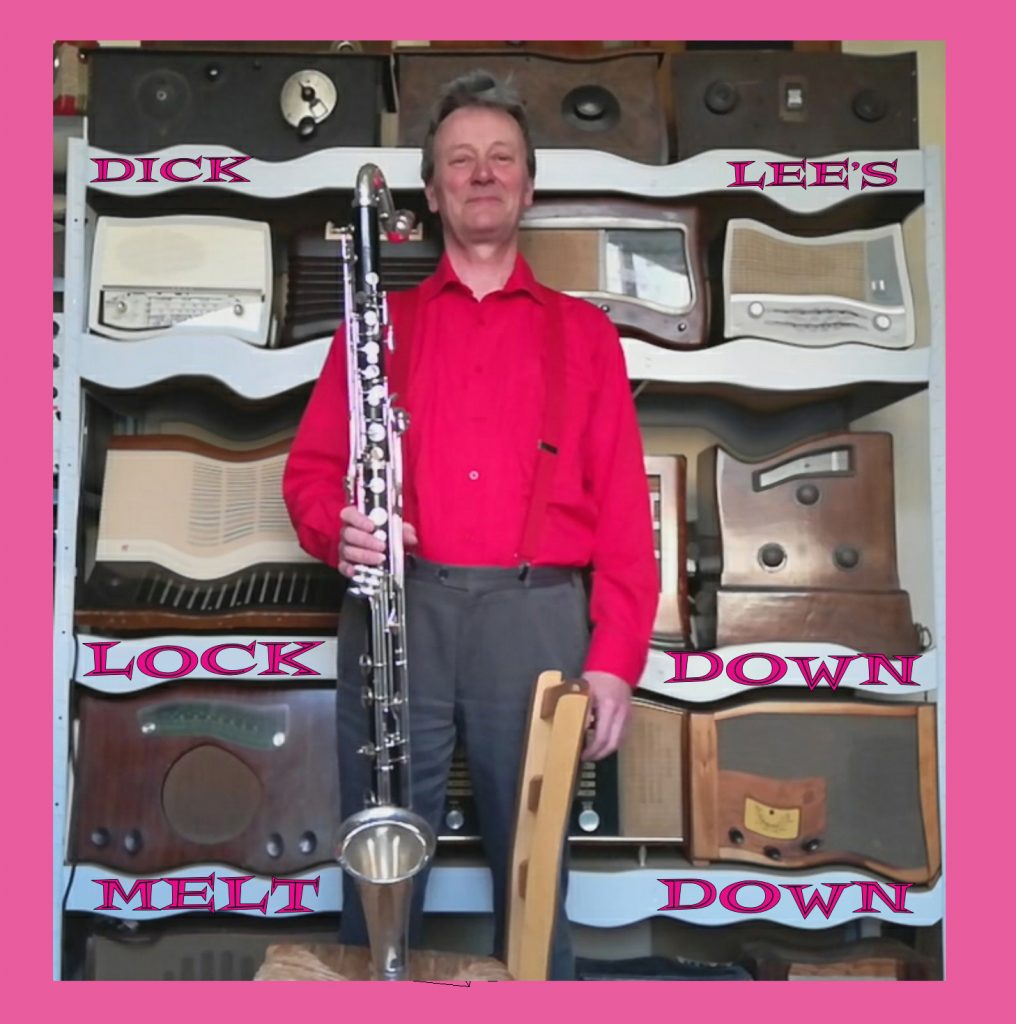 Hi, welcome! I've been using this hell-sent time to record some of my music, sending it out by email to a long list of people, and it's time to put it online. The whole series is called Dick Lee's Lockdown Meltdown, and here are all the tunes so far, freely streamable and downloadable – feel free to pass them on if you like.
I'm playing clarinets, saxes and melodicas, Anne Evans plays flutes, and a wheen of other musicians playing all sorts of things were recorded in the shed before social distancing happened. They're all named in the sleeve notes.
Although none of them are able to play at the moment you can find details of all my various bands – Dick Lee Swingtet, David Vernon and Dick Lee, Dr. Lee's Prescription, Dick Lee's Bechet Nouveau – including biogs, mp3 tracks etc. here:
https://dicklee462.wixsite.com/dicklee
And there's now a YouTube channel, Dick Lee's Lockdown Meltdown, featuring videos of all the tracks: 
https://www.youtube.com/channel/UCSf3DtcAgLmm4EmTv0276PQ
All the best, Dick.
Dick Lee – clarinets, saxes, melodicas, sampling, composition

Anne Evans – flutes and piano and a wheen of other musicians recorded before social distancing happened. They're all named on the tracks; many thanks for their great playing.
The tracks are numbered as if for an album, and they make sense that way, but of course any order will do, please yourselves 🙂
Feel free to pass them on if you like.
All the best, Dick.
1 – Meg of Saughtree
A romantic tune written on a walk along a disused railway in the Borders.
2 – Off the Wall
Featuring a herd of bass clarinets, one or two clarinets, and Tom Lee on drums,
what could be better? – answers here: _____________________ 🙂
3 – Dalriada 3
The third movement of a 5 movement piece
for 4 bagpipers and orchestra, Dalriada.
Recorded in the shed here, one line and one musician at a time,
by the Regent Street Shed Orchestra – the RSSO:
Fraser Fifield – Border pipes
Anne Evans – flutes and piccolo
Dick Lee – clarinets, bass clarinet and samplers
Robyn Blair – French horns
Aaron Azunda Akugbo – trumpets
John Kenny – trombones and bass trombone
David Vernon – accordions
Kalliopi Mitropoulu – violins
Fiona Mackintosh – violas
Tom Lee – percussion
Ruth Gabrielle Lee Barrie, my beautiful and talented daughter,
has done a video to go with it; you can see it here:
4 – Trio con Brio
A companion piece to track 1, Meg of Saughtree.
This is the first movement of a wind trio which I was commissioned to write last year by flautist John Harris, and Meg of Saughtree is the second movement. The last movement, Funfair Fanfare, is no. 11 on this list.
5 – TRF
A tune I was commissioned to write by Jimmy Robertson for his band RMS. Dr. Lee's Prescription also played it. This is the studio version, recorded in the shed over about 3 years, with 1 year's social isolation between the guest musicians:
Tom Lee – drums 2017
Malcolm McFarlane – guitars 2018
Andy Mitchell – bass guitar 2019
Like all the tunes in the Hoedown, it sounds best on a good sound system, or headphones. The tiny speakers on most laptops will fail to do justice to Andy's 5 string bass, for instance, playing low frequencies that only nuclear submarines are supposed to hear, Malcolm's hair raising guitar, and Tom Lee's great drumming – well Dad would say that, wouldn't I?
6 – Link Motion
A short tune I made from steam engines.
I hope you'll be well chuffed to hear a standard gauge track . . .
7 – Slow Bird Concerto
Music of a different species, literally! – I made it out of birdsong, slowed down to 1/4 speed so that a human listener can hear it at a relatively human pitch and timescale.
It's in concerto form with orchestra (the dawn chorus and a murmuration of starlings) and soloists; here are the programme notes:
The Avian Orchestra
0.00  Dawn Chorus 1 (goes from normal to ¼ speed)
2.06  Song Thrush solo
2.55  Starlings
3.22  Wren solo
3.51  Dawn Chorus 2
4.16  Garden Warbler solo
4.45  Robin solo
5.24 – end (7.20)  Dawn Chorus 1, reversed
8 – Bandleader Blues
This song features Christine Adams on vocals and me
on everything else, including a first outing on rhythm melodica 🙂

I've got twenty things to do in the morning
I'd be happier to stay in bed
And although I'll still be yawning
There will be stuff going round in my head

There's a gig in Skye and one in Auchtermuchty
And a dance in Bridge of Orchy too
But they're all so thrawn and thruchty
That kind of thing makes a bandleader blue

See these guys up here on stage right behind me?
All they have to do is stand and play
And they all know where to find me
Any time something's not right with their day

Now I've told you all about my conniption
But I have to make it plain to you
It's a really great job description
Scooby doo be doo be doo doo be doo
9 – Pontefiore
Written for Mike Maran's great Valvona & Crolla show Private Angelo
a few years back, arranged for flute, 2 clarinets and bass clarinet.

It's to accompany a scene where Private Angelo, trying to escape WWII,
finds sanctuary in the sleepy village of Pontefiore in southern Italy;
hence it's a peaceful tune, I hope that's what it conveys.
10 – Dalriada 5
Dalriada 3 featured Fraser Fifield on Border pipes, this time he's on
Highland pipes, along with the other members of the RSSO.
11 – Funfair Fanfare
The 3rd and final movement of the wind trio. It uses tunes from the first movement,
Trio con Brio, and the second, Meg of Saughtree.
12 – River Song
A tune I wrote some time ago (about 40 years), River Song.
I've dusted it off and given it a kind of wall of sound treatment.

It features me on clarinets and bass clarinets, Anne on flutes,
Andy Mitchell on bass and Mat Clements and Tom Lee on percussion.
13 – Finish the Beguine
Some years ago I wrote a sequel to Autumn Leaves called Autumn Returns
– more recently I thought it was time to crack that joke again
so here's the sequel to Begin the Beguine . . .
14 – I'll Never Have a Song to Sing
A song I wrote a few years ago, gloomy sentiments when I was
feeling perfectly fine, don't know where it came from :-/
– perhaps a natural reaction to the sound of my singing in the bath 🙂
– hence the reverb
The RSSO on this occasion includes:

Anne Evans – flute, alto flutes
Dick Lee – clarinets
Nigel Richard – citterns, guitars
Malcolm MacFarlane – guitars
Andy Mitchell – bass
Tom Lee – drums
Christine Adams – vocals
Kalliopi Mitropoulu – vocals


15 – Dalriada 4
This is another section of Dalriada, for bagpipes and orchestra.
If you listen to Dalriada 3, then this, and then Dalriada 5
it makes quite a neat 3 movement piece. There are another
two sections sitting in a drawer but I won't be able to
do them until the lockdown is over; I bet you can hardly wait 🙂
16 – Full Body Workout
Accordion wizard David Vernon and I were talking about Graeco-Roman wrestling, where you are not allowed to move your lower body, and thought that if you combined half an hour of that with half an hour of Irish dancing you'd be able to have a full body workout half a body at a time 😁 – so I couldn't resist setting the whole thing to music, Graeco-Roman clarinets followed by Irish flutes.
I was halfway through writing it when a third tune elbowed its way in from Left Field and refused to be left out. It seems to have arrived from a distant land, or possibly a distant planet, on the shortwave band so that's how it appears on the track 😊. All the the tunes combine near the end for a good Graeco-Roman-Irish-Left Field Hoolie.